Result of "My Learning Stories" 《「我的網上學習歲月」— 恒學集 · 徵稿比賽》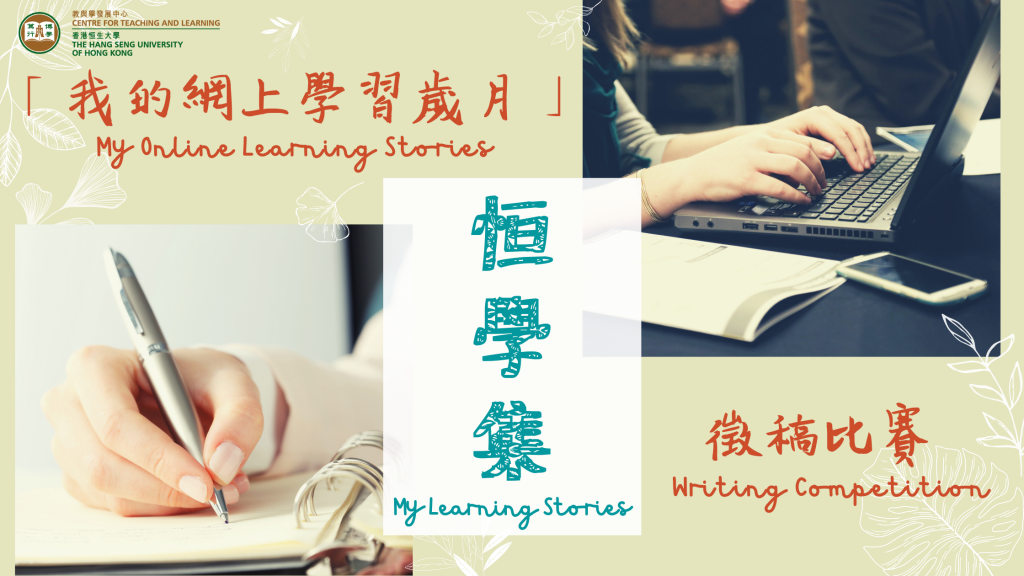 Winner: Lau Sin Yi, Alice (BBA – Marketing, Year 3)
"噓!這是我的小秘密,千萬不要讓老師發現他多了一個新學生「貓同學」。
牠是比我還要守時的學生。照著第一縷陽光起床,優雅地吃個早餐,之後就坐在椅子上等著上課。隨着老師低沉的教書聲,牠緩慢地趴在椅子上,閉上眼睛。當你以為牠睡著,轉身倒杯水稍作休息,牠卻精神抖擻地從椅子跳上桌上,用小巧的腳掌踩在鍵盤上,在聊天框留下牠的獨到見解。每次老師都未能明白牠的意思,牠卻一步不讓地坐在電腦前等待對方的回應。可惜,再長的等待亦換不到回應,最終只能失望而回,等待下次的發問。
當疫情蔓延,人心惶惶,這樣的日常亦難得可貴,況且有小貓相伴,把無聊的上課日子添上兩分溫馨,兩分樂趣,兩分玩味。讓這段安穩而難得的日常持續下去吧。"
Winner: Chong Wing Yee (BBA – Management, Year 2
"曙光變得明亮,睡眼惺忪的她打開沈甸甸的電腦,手指按著熟悉的按鈕,打開了老少皆知的應用程式。「今日教第三課,係度嘅同學開咪講聲到,陳杰玲。」「到。」每次上課的前一晚,她總是玩樂到凌晨,為了是慶祝脫離中學常規的生活,心裏也是清楚畢業後將要負擔更龐大的責任,而「報復式的玩樂」,所以她早就已經調教四至五個鬧鐘準備起床。點名後,她照常地躺回床上,把電腦的聲響調到最低,並將「教授」放在房間的角落,漸漸地睡著了,這就成為了疫情時她上早課的日常。「Online上堂之後,成個人頹曬,完全無心機聽書。」「係囉!而且無咩動力上堂,好悶。」「真係好希望畢業前可以再同你地一齊上堂,一齊享受大學生活……」她說。"
投稿詳情​:
– 以「我的網上學習歲月」為題,分享在疫情期間你的網上學習苦與樂,任何見聞或小趣事亦可,可描寫、可議論,題材不限。
– 體裁:不限 (短文、日記、文言文、歌詞、詩等等)
– 語言:中文或英文均可
– 字數:不多於300 中文或英文字
– 徵文日期:2021年4月1日至2021年4月30日
注意事項及細則:
– 提交作品數量不限,但每人只有一次獲獎機會。
– 不得在提交的作品上寫任何個人信息,名稱和標記。
– 以下作品將被取消參賽資格:任何發現為剽竊的作品; 侵犯他人權利而獲得的作品; 包含色情,裸露,淫穢,暴力和其他有爭議或不適當主題的作品。
Submission details​:
– On the theme of "My Online Learning Stories", share your online learning pains and pleasures during the epidemic. Any experience or trivial things can be described and discussed, and the subject matter is not limited.
– Format: Unlimited (short essays, diaries, classical Chinese essays, lyrics, poems, etc.)
– Language: Chinese or English
– Word limit: No more than 300 words for both Chinese and English
– Submission period: April 1, 2021 to April 30, 2021
Notes and rules:
– Students can submit more than one piece of work, but only one prize will be given to each student.
– No personal information or marking should be written on the submitted work.
– The following work will be disqualified: Any work found to be plagiarism; work obtained by infringing on the rights of others; work containing pornography, nudity, obscenity, violence, or other controversial or inappropriate themes.