Government Jobs Preparation Series - AY2022/23
Prepare Yourself for the HKSARS Government Positions
Event

Date

CRE and BLNSL workshop




綜合招聘考試及基本法及香港國安法測試工作坊

September 2022

Mock CRE




模擬綜合招聘考試

September - October 2022

JRE workshop




聯合招聘考試工作坊

November 2022

Government jobs 101




政府職位簡介

February 2023

Job Experience Sharing session




工作經驗分享會

March 2023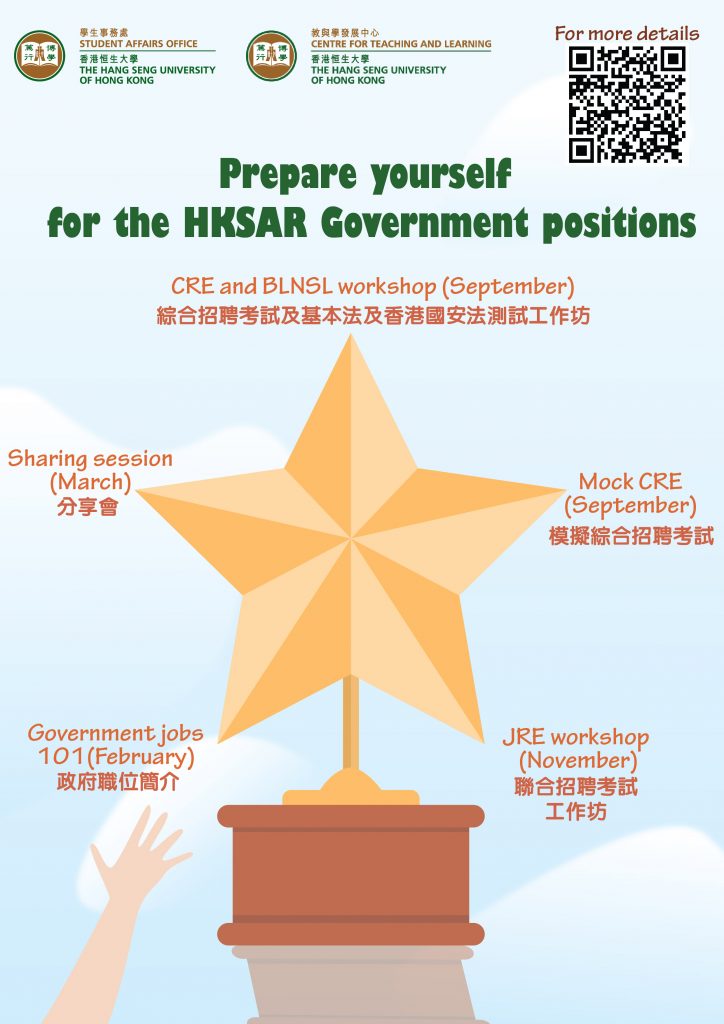 CRE and BLNSL workshop 綜合招聘考試及基本法及香港國安法測試工作坊(Completed)
If you have applied for the CRE & BLNST organized by the Civil Service Bureau, please join our Preparation Workshops in which we help you acquire the skills and better prepare for the examination. Two identical sessions would be provided to guide you to tackle the questions with lots of sample questions.
Workshop Details:
(Identical sessions, presented in Cantonese with supplementary materials in English)
Session 1
Date: 22 September
Time: 1:30pm – 4:30pm
Venue: D302
Session 2
Date: 27 September
Time: 4:30pm – 7:30pm
Venue: D302
For enquiries, please contact Career Planning and Development of SAO at 3963 5275.
CRE Mock Exam Papers 模擬綜合招聘考試
To help you prepare for the examinations, we offer three online mock papers (Use of Chinese, Use of English and Aptitude test) for our final year students.
If you are a final year student and you would like to attend the mock examinations, please register here.
Government jobs 101 政府職位簡介
For more information of the examinations and application, please refer to "Recruitment" of the Civil Service Bureau.