HSUHK Teaching and Learning Forum 2021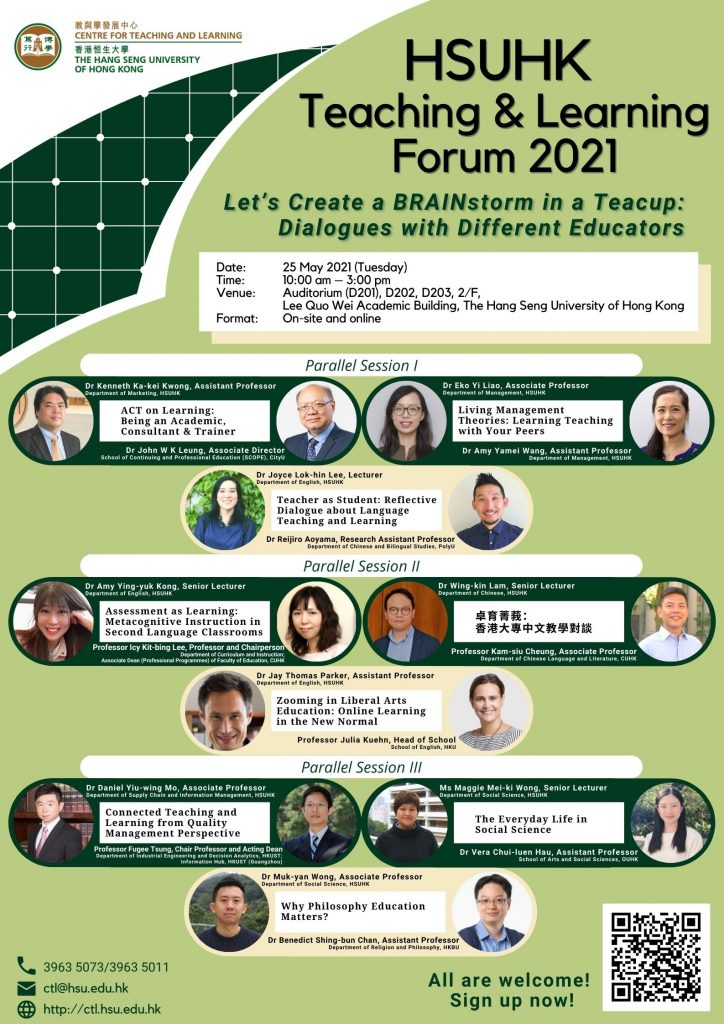 About
The Centre for Teaching and Learning (CTL), The Hang Seng University of Hong Kong (HSUHK), organised the first HSUHK Teaching and Learning Forum in 2019 as a cross-institutional platform for educators to share the best practices and the most updated experience of teaching and learning. CTL will organise the second HSUHK Teaching and Learning Forum on 25 May 2021 (Tuesday), at which the awardees of the HSUHK Teaching Excellence Awards 2018/19 and 2019/20 will present with the distinguished guests from local institutions.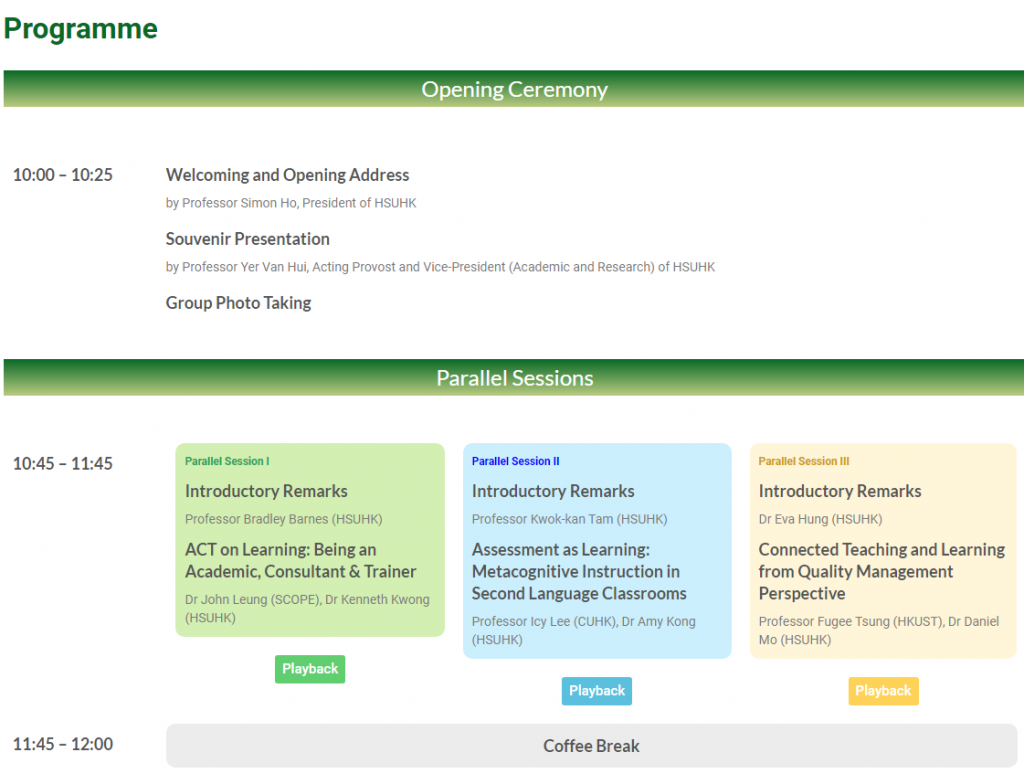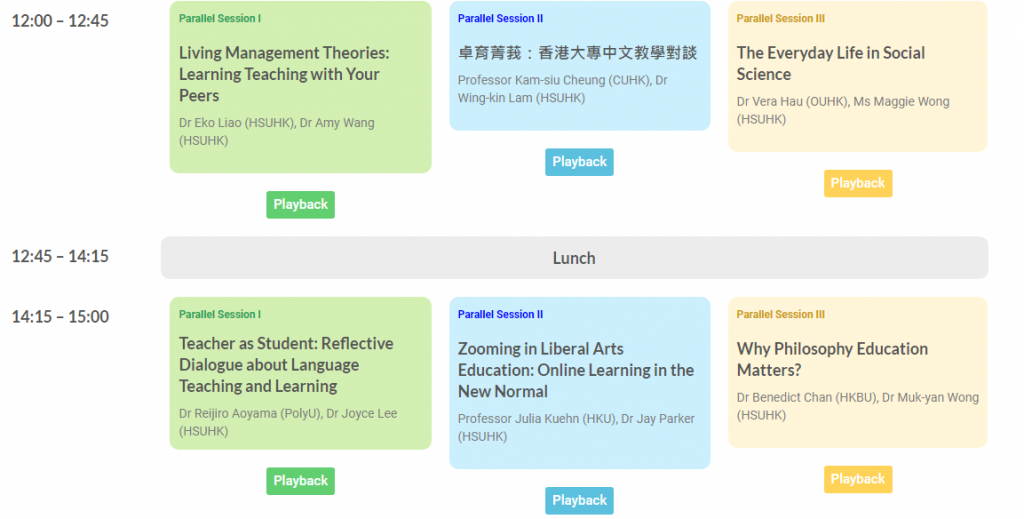 Dr John Leung (SCOPE)
Dr Kenneth Kwong (HSUHK)
We are going to reflect on our teaching and learning from the perspective of a business professor, who needs to develop knowledge as well as disseminate it to a wider audience including the public and professionals. We, therefore, act on three different yet related capacities to educate and be educated. These capacities are an academic, a consultant, and a trainer.
Dr Eko Liao (HSUHK)
Dr Amy Wang (HSUHK)
From a management perspective, Dr Amy Wang and Dr Eko Liao will use an interactive approach to share their journey of crafting teaching skills from the power of peer learning. In this sharing, Amy and Eko will reflect how they have formed their teaching philosophies, exploring ways to make teaching not only effective in the classroom, but also enjoyable and meaningful for teachers themselves. In this process, peer learning such as getting inspired and supporting each other has proven to be encouraging and helpful in the growth of their teaching careers. They will also discuss how they incorporate management related theories, perspectives, and research into teaching.
Dr Reijiro Aoyama (PolyU)
Dr Joyce Lee (HSUHK)
"We do not learn from experience… we learn from reflecting [emphasis added] on experience." — John Dewey. Reflective teaching is closely related to critical self-examination and reflection, which can serve a basis for decision-making, planning, and action regarding pedagogical practices. In this session, from the perspective of a third language learner, Dr Lee will reflect on teaching and learning practices with her former teacher, Dr Aoyama. The discussion will offer fresh personal insights into effective strategies to motivate, engage, and assess the learning effectiveness of students in the language classroom.
Professor Icy Lee (CUHK)
Dr Amy Kong (HSUHK)
Assessment as learning (AaL) emphasises teachers adopting procedures to help students become independent learners. Such procedures usually involve the sharing of assessment criteria before self-evaluation, trained peer review, one-on-one consultations, and learning portfolios (that engage students in goal setting). Through the process, students will enhance their metacognition, that is, metacognitive knowledge (their thought processes) and metacognitive regulation (strategies for regulating their learning). As such, metacognitive instruction—raising students' awareness of what they are doing and why—has a crucial role to play in AaL-oriented classrooms
The sharing session will start with Professor Icy Lee's introduction about the theoretical framework underpinning AaL, followed by Dr Amy Kong's sharing of how to implement AaL in L2 classrooms. The sharing will end with Professor Icy Lee's comments on how to enhance the shared pedagogies to further promote students' autonomous learning in the long run.
張錦少教授(香港中文大學)
林永堅博士(香港恒生大學)
中文教學的特點在於它身兼多職,既要提升學生的中文運用能力,並以致用為鵠的,還要引導學生認識中國文化,培養品德情意。因此,要在有限的時數裏完成中文教學的目標,可謂殊非易事。隨著社會經濟發展的急促變化,語文教學面對的挑戰越見明顯。在是次分享,兩位講者將從自身經驗出發,談談他們對香港大專中文教學的一些心得與體會。
Professor Julia Kuehn (HKU)
Dr Jay Parker (HSUHK)
The global pandemic has transformed interaction in schools and universities all over the world. Professor Kuehn and Dr Parker will reflect on the changes this has brought to teaching and learning in the liberal arts and humanities. They will evaluate both the positives and negatives in their experiences of online learning. What changes have brought benefits? What trends have been accelerated? How might our classrooms and programmes look in the new normal?
Professor Fugee Tsung (HKUST)
Dr Daniel Mo (HSUHK)
Teaching in the tertiary education sector is valuable to bridge the undergraduate students from learning theory to practice in society. During that value-adding process, however, some students could be disconnected and departed from the original goal. The role of a teacher, therefore, becomes not only transferring the subject knowledge but also serving as a connection point. This session aims to share some thoughts on connected teaching and learning. We have invited a famous quality management expert to share his views on our tertiary education. Let's take the chance to rethink our quality assurance system.
Dr Vera Hau (OUHK)
Ms Maggie Wong (HSUHK)
Social sciences matter to us as we all live in a society. Enabling students to make sense of their everyday life from the perspective of social sciences can help enhance learning motivation as students find it relevant. Students may also become an agent of social changes for a better society when they become knowledgeable. Maggie and Vera will share stories of impactful teaching in their classes of Sociology and Psychology.
Dr Benedict Chan (HKBU)
Dr Muk-yan Wong (HSUHK)
Being widely recognised by students as one of the most useless disciplines, Philosophy education has never ceased to be included in the curriculum of all prestigious universities. Why does philosophy matter? In what sense does it matter to our lives and society? What does philosophy actually offer other than telling you that you know nothing at all? Is an unexamined life really not worth living? Let's figure it out why we probably can't answer these questions.